PROJECT SUMMARY

TIPS TO GET THROUGH THE CRISIS is a collaboration project between two young Spanish artists representing opposed conceptions but complementary with the contemporary art appearance, pretending to demand the role of the art in the global reality. In the WORLD CRISIS actual context, art inspects its own language and its social mission to give back the humanity its role consciousness that is the head of the change process.
 

This ironic and mythic investigation in the power of art is tackled from the academic job Jesus Azogue is realizing about digital media and it's what pushes us inside a virtual and parallel reality opposed to the baroque objectivity and the incisive iconography of Juan Antonio Rodriguez – JARR. The world hope around the "Yes we can" slogan become apparent in this works of art that gives an alternative to the CRISIS: the other reality creation (Azogue) or recycling the reality (JARR).
Here you can see a prsentation of the project of one of the main works (in Spanish)

Display model and technic based on HoloCube technology.
PROJECT DISCURSIVE JUSTIFICATION

Tips to get through the crisis


Art and social compromise. The art implication on reality has been defined since the 60' acting like a demanding artistic genre that squeezes the human minds with the objective of widely show the social inequities, global destruction and injustices that devastates the contemporary world. Visual arts and specifically the audiovisual image codes had been the most appropriate language for giving an aesthetic and artistic testimony of war, violence and twentieth century social revolution.

Art and communication. The takeoff without precedent of the communication media, digital universe, Internet and social webs has created a new information era that has transformed humankind sensibility. Derived from the visual sense, art shares this named communication factors and during the centuries have assumed the role of this type of media in construction of power image.

Negativity, scare, obscurantism. Impact power of that art conjunction and communication has the capacity of magnifying in a devastating manner the actions and messages. What lately was a necessity and a compromise now has been installed in the eye and human mind until making him a fatalist, nihilist and negative kind. When it's not it could become in an insensibility in front of the pain impact derived from an isolation or devastation image.


"Tips to get through the crisis" pretends to give a vision / positive mission to art parting from fine arts vission and new technologies generating an interaction space with the spectator that moves and interact in real world, artistic and virtual world. In this exhibition would cohabitate both art works and voices. JARR's artistic investigation, based in objectivity and recycling actions, is unified to the digital intervention speech of Jesus Azogue.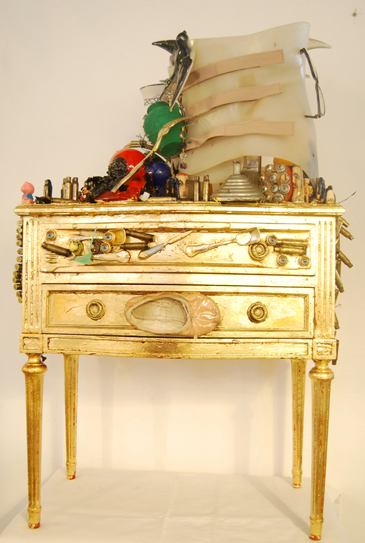 Autorretrato, JARR

Artist redention. JARR's peculiar and narrative art project, his figurative work, mystic and visionary sense and iconography protagonist in this project a draft of nut in his values leaving in a side past art works views. He is betting the artist voice and figure, that have in an ethic and aesthetic power to do the reconciliation between human and the world and to achieve the yearn balance. This way compromise with reality is still been its art work's principal motivation but from a complete trust in the change and live redoing possibilities: that's the way he expresses in the art series Barroco (Baroque).

Jesus Azogue's digital work talks to us about that new artist leadership, converting in the Tips to get trough the crisis installation principal character. His 3D head, in vivid, brilliant colors lives in totems in a hologram way. Talks to itself and with the spectator, thinks, bores and keeps a secret: the solution to the crisis. He has invented a particular process that spectators have to follow in order to get access to the secret. Activating a crank, the public can make that this head start to swell. We have to imagine that we're blowing a balloon, which shrieks and hurts in an insufferable manner but with a funny side… in that situation the balloon will explode like a paint bubble, leaving in its place a series of small floating letters, forming the phrase: a judgment, a philosophical key, an advice to get out of the crisis. The head, like a Chinese fortune cookie, gives its secret when is destructed. Once the process is finished the head comes back waiting for another visitant that make it blows and reveal a new message