La palabra es un ancla que vuela is an interactive installation that plays with words, in which Jesus Azogue, as an artist, has worked in collaboration with Jesus Carrasco (writer), Juan Alvarez (poet) and Manolo Alvarez de Toledo.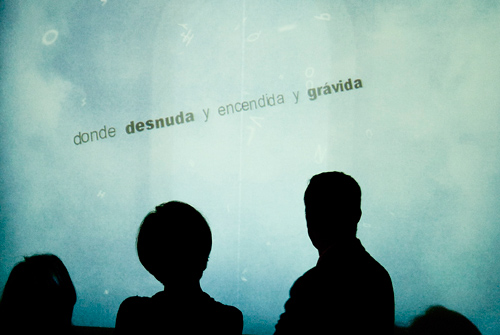 Everything changes, we moved, we die, we have children or not, grow, mutate, but one thing always remains: the word. The word is an anchor, because it is the fixed point, the rock in the middle of the storm to which we can grab to try to understand. But the word, that holds us to the world, also flies. Poetry, fiction, art ultimately as exploration of the limits of that reality whose known parts (the rock in the middle of the storm) is also explained by the word.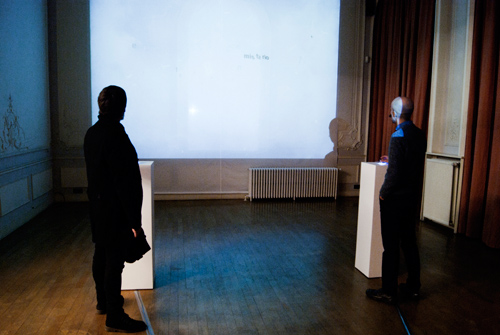 In this interactive digital installation a poem by Juan Alvarez is combined with a narrative story of Jesus Carrasco. The interaction of the spectators reveal that content that is interlaced by keywords.
-------

(ES) La palabra es un ancla que vuela es una instalación interactiva sobre la palabra, donde Jesús Azogue, como artista plástico, colabora con Jesús Carrasco (escritor), Juan Álvarez (poeta) y Manolo Álvarez de Toledo (programador).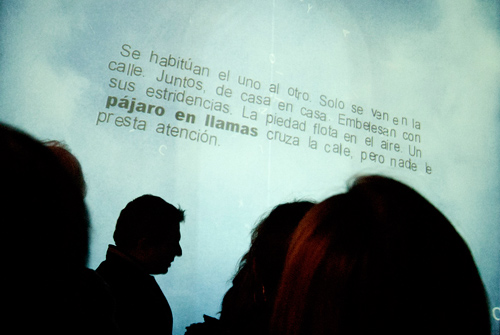 Todo cambia, nos mudamos, nos morimos, tenemos hijos o no, crecemos, mutamos, pero hay algo que permanece siempre: la palabra. La palabra es un ancla, porque es el punto fijo, la roca en medio de la tempestad a la que nos podemos agarrar para tratar de entender. Pero la palabra, que nos sujeta al mundo, también vuela. La poesía, la ficción, el arte en último término, como exploración de los límites de esa realidad cuyas partes conocidas (la roca en medio de la tempestad) también queda explicada por la palabra.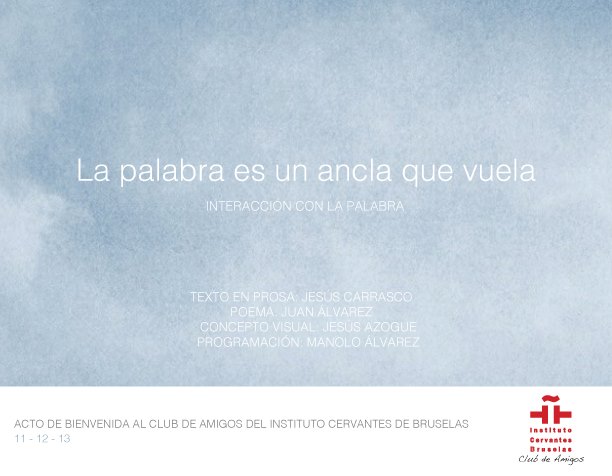 En esta instalación digital interactiva se combina un poema de Juan Álvarez con una narración de Jesús Carrasco. La interacción de los espectadores revelan el contenido que se entrelazan a partir de palabras claves.