El arte español da consejos para superar la CRISIS en la Comisión Europea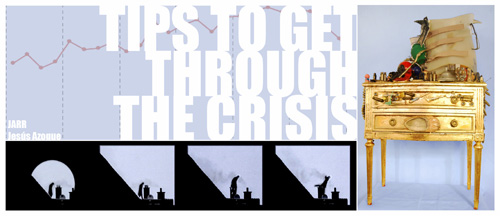 El arte español da consejos para superar la CRISIS en la Comisión Europea

JARR y JESÚS AZOGUE presentan en Bruselas una instalación que interpreta este fenómeno desde la óptica del ARTE

TIPS TO GET THROUGH THE CRISIS
COMISIÓN EUROPEA
EDIFICIO BERLYAMONT
Del 14 al 24 de enero de 2010
Bruselas
Coincidiendo con la Presidencia Española en el Parlamento Europeo, los artistas JARR y JESÚS AZOGUE han conseguido llevar a Bruselas una interesante exposición que analiza a través del arte el fenómeno de la CRISIS desde una mirada transcendente, creativa y positiva.

TIPS TO GET THROUGH THE CRISIS es un proyecto de colaboración entre dos jóvenes creadores, representantes de dos concepciones opuestas pero complementarias de la fisonomía del arte actual, que pretenden reivindicar el papel de implicación del arte en la realidad. En el contexto de la CRISIS MUNDIAL el arte inspecciona su propio lenguaje y su misión en la sociedad, para devolver al hombre la conciencia de su papel central en los procesos de cambio del cambio.
Esa indagación irónica y mítica en el poder del arte se aborda desde la investigación sobre el mundo digital de Jesús Azogue que nos adentra en una realidad virtual y paralela, opuesta a la objetualidad barroca y a la iconografía incisiva de Juan Antonio Rodríguez – JARR. La esperanza de un mundo en plena vigencia del "Yes we can" se manifiesta en el arte que ofrece sus propias alternativas a la CRISIS: la creación de otra realidad (Azogue) o reciclar la realidad (JARR).
La exposición es un proyecto comisariado por el crítico Alejandro Villar a través del Grupo Centrifugarte, una asociación formada por jóvenes comisarios que han emprendido esta aventura apoyados por la Fundación de la Comunidad Valenciana en Bruselas. La muestra que se presenta en el edificio Berlyamont el próximo 14 de enero es la primera de una serie de instalaciones conjuntas que los dos creadores realizarán en la capital europea durante el primer semestre de 2010.